1. What was the last book you marked as 'Read'?
Vampire Academy by Richelle Mead
2. What are you 'Currently Reading'?
Cold Spell by Jackson Pearce
Mirror Mirror by Gregory Maguire
3. What was the last book you marked as 'To-Read'?
The Chronicles of Amber by Roger Zelazny
4. What book do you plan to read next?
Dark Places by Gillian Flynn
5. Do you use the star rating system?
Absolutely! 1 -awful. 2- Okay. 3 - liked it. 4 - really, really liked it. 5 - OMFG THIS BOOK I CAN'T LIVE WITHOUT IT! In a nutshell.
6. Are you doing a 2014 reading challenge?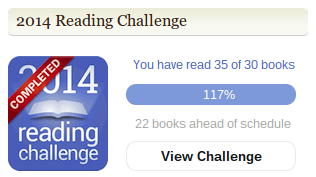 7. Do you have a wishlist?
On Amazon, yes. Always convenient for birthdays and holidays! Honestly, they're mostly book I've read, that I already know that I like; I get most of my reads from the library.
8. What book do you want to buy next?
See: above. I have about ten book checked out from the library, though, and I just grabbed The Snow Queen by Joan D. Vinge, which I'd had on hold!
9. Do you have any favorite quotes? Would you like to share a few?
Putting aside the fact that I could probably quote every line from every Star Wars and most Disney films, as well as quite a few others here are a very small selection of my favorite literary quotes:
No live organism can continue for long to exist sanely under conditions of absolute reality."
― Shirley Jackson, The Haunting of Hill House
"Develop a little self-righteousness. A lot of that is an ugly thing, God knows, but a little applied over all your scruples is an absolute necessity! It is to the soul what a good sun-block is to the skin during the heat of the summer. You can only captain your own soul, and from time to time some smart-ass psychologist will question your ability to even do that."
― Stephen King, The Stand
"I would always rather be happy than dignified."
― Charlotte Brontë, Jane Eyre
"It is not our part to master all the tides of the world, but to do what is in us for the succour of those years wherein we are set, uprooting the evil in the fields that we know, so that those who live after may have clean earth to till. What weather they shall have is not ours to rule."
― J.R.R. Tolkien, The Lord of the Rings
"And then her heart changed, or at least she understood it; and the winter passed, and the sun shone upon her."
― J.R.R. Tolkien, The Return of the King
"My friend, you had horses, and deed of arms, and the free fields; but she, being born in the body of a maid, had a spirit and courage at least the match of yours. Yet she was doomed to wait upon an old man, whom she loved as a father, and watch him falling into a mean dishonoured dotage; and her part seemed to her more ignoble than that of the staff he leaned on.
― J.R.R. Tolkien, The Return of the King
"We need not to be let alone. We need to be really bothered once in a while. How long is it since you were really bothered? About something important, about something real?"
― Ray Bradbury, Fahrenheit 451
"The moon had risen behind him, the color of a shark's underbelly. It lit the ruined walls, and the skin of his arms and hands, with its sickly light, making him long for a mirror in which to study his face. Surely he'd be able to see the bones beneath the meat; the skull gleaming the way his teeth gleamed when he smiled. After all, wasn't that what a smile said? Hello, world, this is the way I'll look when the wet parts are rotted."
― Clive Barker, The Great and Secret Show
"The whole world is a series of miracles, but we're so used to them we call them ordinary things."
― Hans Christian Andersen
10. Who are your favorite authors?
J.R.R. Tolkien, Stephen King, Tamora Pierce, Clive Barker, Ray Bradbury, the Brontes
11. Have you joined any groups?
Nope
12. Are there any questions you'd like to add to this tag?
Yup--adding!
13. Last book you abandoned?
The Kingdom of Little Wounds by Susann Cokal. I was in a bad place mentally, and it was just too overwhelmingly depressing. Well written though.
14. Who are your favorite literary antagonists?
Steerpike, Gormenghast by Mervyn Peake; Randall Flagg, The Stand (and others) by Stephen King; Hill House, The Haunting of Hill House by Shirley Jackson
People I'd like to tag:
I'm terrible at tagging! I always just say that if you want to do it, go to town! :D