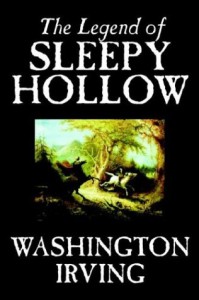 This story was part of the landscape of my childhood. I grew up in New York, on Long Island, but my father was an upstater, and my mother actually lived in Tarrytown itself when she and my grandma first came to this country. As integral to my folk knowledge as songs like "Low Bridge, Everybody Down" were.
Though the atmosphere of the book is actually more evocative of winter/Christmas (which is appropriate for ghost stories of the time), every time the leaves changed and the weather got temperamental, it would always feel very Irving-esque. This is heightened by Arthur Rackham's beautiful, complex illustrations, every inch of which contain something to look at. Houses and trees, take on human qualities, unsettling 9 year-old me, who received this book as a present for my birthday, and who had always suspected that empty windows were eyes, and that unseen gazes peeked out from the dying leaves of autumnal trees.
Is it scary? It certainly was for me as a child, but as an adult I can appreciate it as the masterful folk tale that all historical ghost stories are and should be.